New Launch X431 V 8inch Lenovo Tablet Wifi/Bluetooth Full System Diagnostic Tool with 2 years free update
Global Version NO IP Limit
2 years free update on www.dbscar.com
Lifetime tech support, 1 Year product Warranty from LAUNCH Official
New Launch X431 V 8inch Lenovo Tablet Wifi/Bluetooth Full System Diagnostic Tool with 2 years free update
LAUNCH X431 V 8″ Highlights:
Communication: Support Wifi and Bluetooth.
Brand PAD: 8″ inch capacitive touchscreen Lenovo PAD, fast running speed.
Powerful & Professional Functions: Supports Full System Diagnosis + 11 Special Functions
Remote Diagnosis: LAUNCH technician can provide remote help when you got problem during testing.
Diagnostic Feedback: Support to feedback your diagnostic problems to LAUNCH for analysis troubleshooting.
Wireless Printer Connection: Designed to establish a wireless connection between X-431 V and the Wi-Fi Printer (sold separately).
Special Design: X431 V Pad computer equipped with an exclusive X-431 V protection sleeve to prevent it from being damaged.
ECU Coding and Auto VIN Tech: This diagnostic tablet supports ECU coding function on a large amount of makes, including for Benz, for Ford and more.
Multi-Languages: English, German, Japanese, Russian, French, Korean, Arabic, Spanish, Italian, Portuguese, Polish, Turkish, Dutch, Greek, Hungarian, Arabic, Danish, Persian, Romanian, Serbian, Finnish, Swedish and Czech.
Vehicle Coverage: Works on all vehicles domestic & import since 1996, up to 72 car brands about 220 car models from European, USA Asian, Australian, Indian and Malaysia Car Models.
Entertainment-savvy Tablet: Built-in Wi-Fi module makes surfing on the internet freely. Android based applications can be customized to install or uninstall
New Designed DBScar Connector: Bigger Bluetooth adapter with LED indicator, Bluetooth distance: 10M (Without Obstacle); Higher quality chip, Long service life; Support repaired, save more money.
Support Bi-directional Control & Actuation Test: for example , turning on and off the a/c clutch, fuel pump, purge control solenoid and ect. It is professional DIY automotive tool for mechanic.
Newly Added Function: For 2017 and later FCA Vehicles with Secure Gateway Module (SGW). This function requires online subscription.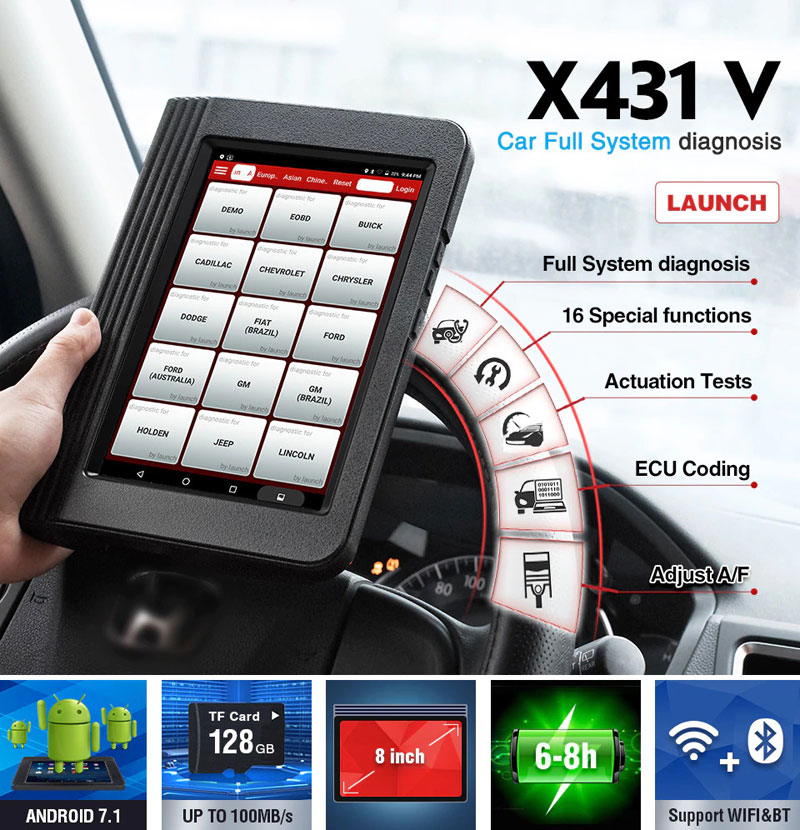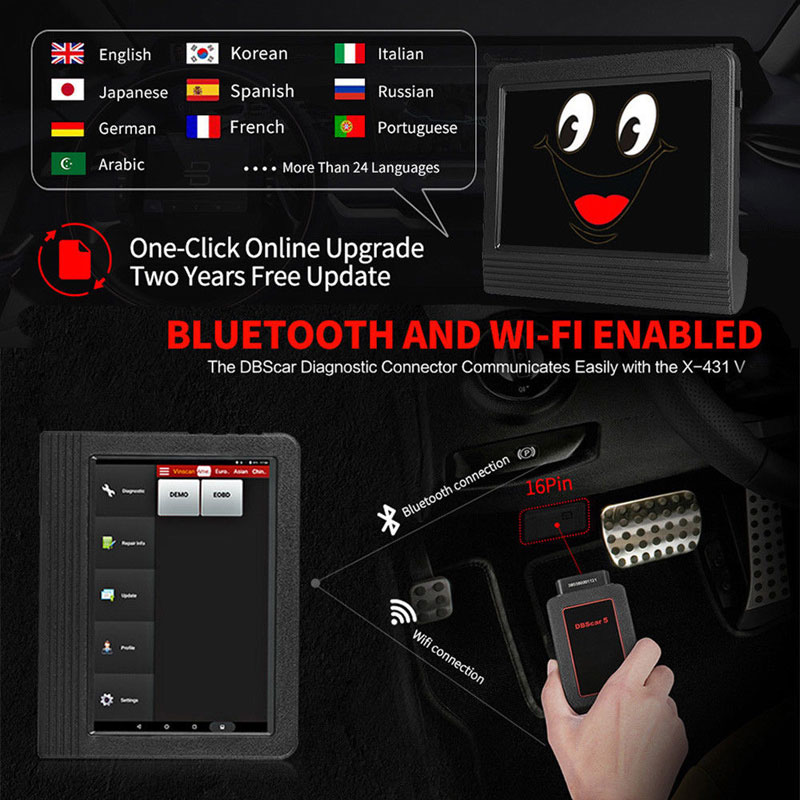 What is X431 V 8″ Original ?
X431 V is a new OBD2 Scanner released by Launch tech,composed of an X-431 V tablet, a protection sleeve, a DBScar diagnostic connector and many OBD1 to OBD2 connectors. It communicates with your car by connecting DBSCAR with Bluetooth, it reads car DTCs and perfoms diagnosis by the X431 Pro Pad computer, it achieves X431 series full car model and full-system diagnose function, it can replace X431 Diagun III or X431 IV. Meanwhile, taking advantage of mobile internet, it integrates more application and service, such as creating maintenance data base and case library, providing instant maintenance information, establishing public and private maintenance social circle etc. As a result, it builds a broad vehicle diagnostic community, which helps you to share vehicle maintenance knowledge online, exchange vehicle maintenance experience online and provide vehicle maintenance related service support online. This will be another revolution raised by Launch in the vehicle diagnosis industry.
How to Register & Download Launch X431 8″ Tablet Software?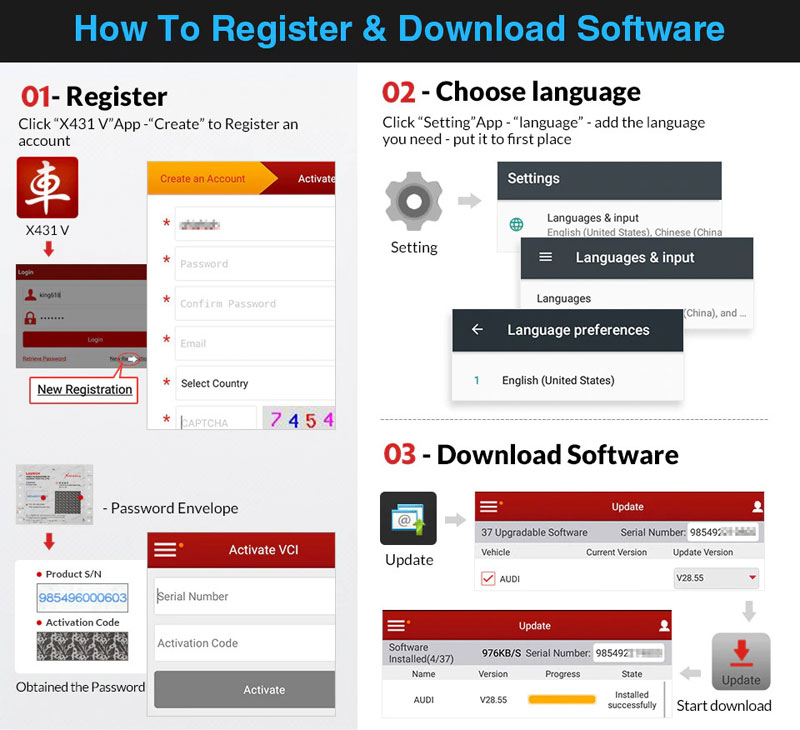 Launch X431 V 8″ Scanner Functions:
I. Full Diagnosis Function:
1. Diagnose
A. Diagnose the electronic control system of prevailing vehicle models covering Asian, European, American and Chinese. Diagnosis functions include: Read DTCs, Clear DTCs, Read data stream, Special functions etc;
Specially designed for Android platform with clear and user-friendly interface;
Via Bluetooth, it is simple for diagnostic connector to communicate with X-431 V 8inch;
Equipped with an exclusive X-431 V 8inch protective sleeve to prevent it from being damaged.
B. One-click Update: lets you update your diagnostic software more efficiently.
C. Repair Data: Provides abundant automotive handbook, repair case and wiring diagrams for reference and retrieval.
2. Browser: built-in Wi-Fi module makes surfing on the internet freely;
3. Email: allows you to send and receive email.
4. Search: enables you to locate your target quickly and conveniently;
5. Settings: to configure your personalized X-431 V through it;
6. Applications: other android based applications can be customized to install or uninstall.
Launch X431 V 8 inch vs. Launch X-431 7 inch vs. Launch X431 Pro 8 inch Global Version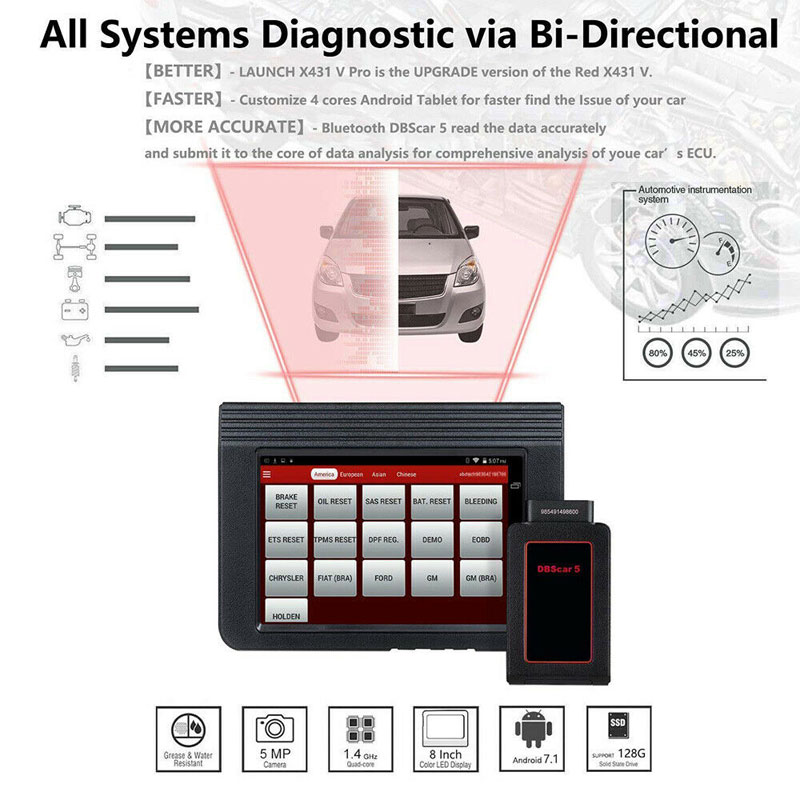 II. Special Functions
This option allows you to detect whether the system parameters are normal or not. It mainly includes: Injector test, fuel pump test, purge control solenoid and so on.
In addition to amazing & powerful diagnostic function, X-431 V also features various service functions. The most commonly performed service functions contain:
Oil Reset : allows you to perform reset for a new calculation of Engine Oil Life system once changed the oil.
EPB Reset : is important in the maintenance of electronic braking system's safety and efficiency.
BMS Reset: allows the scan tool to evaluate the battery charge state, monitor the close-circuit current, register the battery replacement, and activate the rest state of the vehicle.
DPF Reset: specially works for Diesel Particulate Filter system with DPF regeneration, DPF component replacement teach-in and DPF teach-in after replacing the engine control unit.
SAS Reset: helps clear the fault steering angle sensor memories and plays an important role in the steering angle sensor calibration.
TPMS Reset : makes sense in displaying sensor IDs from the vehicle's ECU, inputting TPMS sensor replacement IDs and testing sensors.
IMMO reset: it is mainly used to disable the lost vehicle keys and program a new replacement key fob.
ABS Bleeding: ABS brake bleeding to get a firm brake pad after air exhaustion.
Throttle reset: The throttle body is a tube containing a pivoting flat valve (butterfly) that is used to control the amount ofair entering an engine. In an electronically fuel injected car, a throttle position sensor and air flow sensorcommunicate with the computer, which supplies the corresponding amount of fuel needed at the injectors. It must need re-learning throttle sensor position after clearing or repair
Gear Learning : The scan tool monitors certain camshaft position sensors signals to determine if all conditions are met to continue with the procedure for Engine running
Injector Coding: Leaking injectors and some dead injectors can be missed even when an injector is disabled. Otherproblems with the ignition system and mechanical components also may not show an rpm loss when aninjector is turned off
Note : Special functions are NOT for all car models, if you are confused, Please send your car brand, model and release year to seller to check it for you .
Additional 5 More Reset Functions:
Air Suspension Reset
Gearbox Reset
Sunroof RESET
AFS Reset
EGR Reset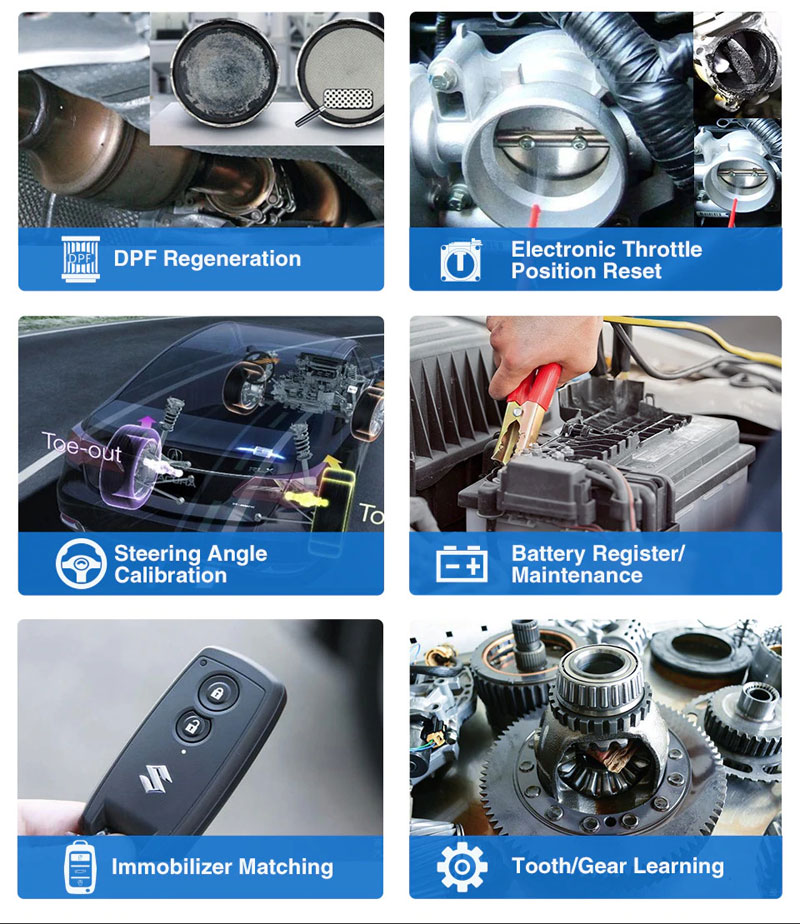 Launch X-431 8inch Tablet Vehicle List:
1. European
ABARTH, ROMEO, AUDI, BMW, CITROEN, DACIA, FERRARI, FIAT, FORD(EUR), GAZ, JAGUAR, LANCIA, LANDROVER, MASERATI, MAYBACH, MERCEDES, OPEL, OPEL (S.A.), PEUGEOT, PORSCHE, RENAULT, ROLLS-ROYCE, ROVER, SAAB, SEAT, SKODA, SMART, SPRINTER, VAZ, VOLVO, VW
2. America
CHRYSLER, FIAT (BRA), FORD, FORD (AUS), GM, GM (BRA), HOLDEN
3. Asian
ACURA, DAEWOO, DAIHATSU, HM, HONDA, HYUNDAI, INFINITI, ISUZU, ISUZU (THAILAND), KIA, LEXUS, LUXGEN, MAHINRA, MARUTI, MAZDA, MITSUBISHI, NISSAN, PERODUA, PROTON, SSANGYONG, SUBARU, SUZUKI, TATA, TOYOTA
4. Chinese
BYD, CHANGAN, CHANGHE, JIAO, GREAT WALL, HAFEI, JAC, JINLONG, ISUZU, LIUWEI_TY, QIRUI_TY, TIANJIN, FAW, XINKAI, ZHONGSHUN, ZHONGTAI, ZHONGXING
5. Other Vehicle Models:
Russia car models: GAZ, VAZ
Brazil car models: FIAT, GM
Malaysia car models: PERODUA (PERODUA), PROTON
IRAN car models: IKCO, MVM
India car models: TATA, MARUTI, MAHINDRA
What Car Software is included in X431 V 8inch Scanner (Picture Display)?
Connecting by Bluetooth
X431 V 8 inch communicates via Bluetooth, very easy to use. X431 V 8inch pad is specially designed for Android platform with clear and user-friendly interface. X431 V 8inch Pad is equipped with an exclusive X-431 V protection sleeve to prevent it from being damaged;
You can use golo connector to connect to your smart phone, then you can do a all system fault diagnosis of vehicle at any time, then form a diagnosis report, and transfer the report to maintenance technicians and related personnel through the account management interface, then he get the remote consultation and repair advice.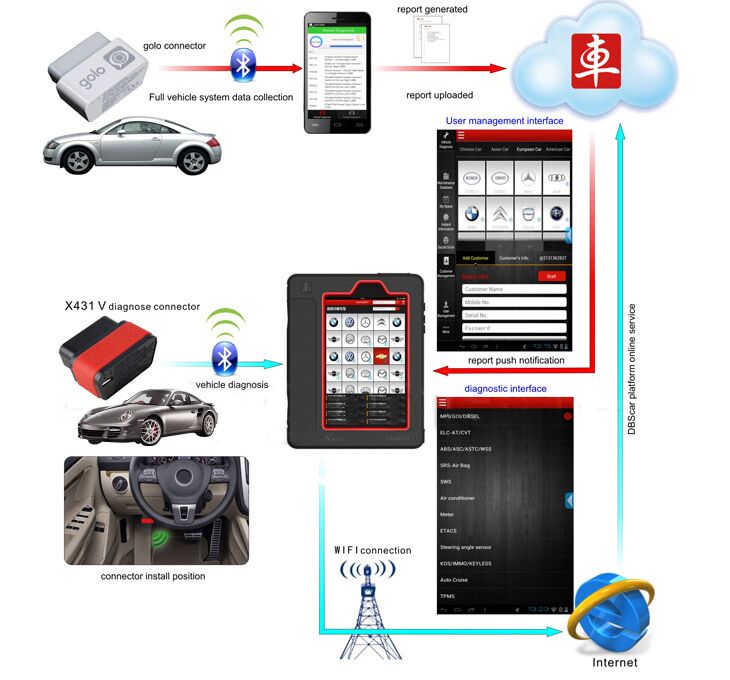 Other Funtions:
Browser
Built-in Wi-Fi module makes surfing on the internet freely;
Settings
Through the settings, you are allowed to configure the personalized X-431 V;
Search
Enables you to locate your target quickly and conveniently;
Email
Allows you to send and receive email. External POP3 or IMAP email account for some common Web email service provider can be added;
File Manager
You can manage the files or downloaded files stored in SD card efficiently;
Alarm, calendar, calculator etc.
Applications