OBDSTAR X200 Pro2 Oil Reset Tool
OBDSTAR X200 Pro2 Oil Reset Tool, supports Oil Reset, TPS, EPB, ABS bleeding, Battery match, Steering Angle reset, DPF, OBDII, Gear learning, CVT learning value reset, injector coding and SUS reset.
OBDSTAR X200 Pro2 Oil Reset Tool
Top Reasons to get OBDSTAR X200 Pro2 :
Maintenance function supports most of models on the market;
Mercedes-Benz, BMW, Porsche, Volvo, Land Rover, Jaguar, Renault, Peugeot, Citroen, DS, Maserati, Aston Martin, Volkswagen, Audi, Skoda, fully supports up to 2020 models.
Oil Reset / TPS / EPB / ABS bleed / Battery match / Steering Angle reset / DPF / OBDII / Gear learning / CVT learning value reset / injector coding / SUS (suspension) reset
Description:
X200 Pro2 Oil Reset Tool is an intelligent maintenance device based on Android 5.1.1 operating system. It uses a quad-core processor and runs fast and stable. Equipped with a 5-inch capacitive high-definition touch screen, it supports one-click wireless network upgrade, and also has a user upgrade prompt function, which is more convenient and fast.
The X200Pro 2 car maintenance zeroing expert focuses on car maintenance, and has other common special functions. It supports most of the models on the market and covers 2020 new models. The built-in graphic guide help function is simple, efficient, and practical. It meets the needs of repair shops and quick repairs. The store's fast repair and fast maintenance business requirements are essential equipment for auto repair masters.
Appearance innovation:
Change from handheld to smart tablet to realize intelligent operation of fools
New industrial design, both practical and convenient
Technical Update:
One-click upgrade to quickly download new versions of software
One-click search to quickly locate the model brand, saving time and efficiency
Hardware upgrade:
5 inch high-definition touch screen, easy to carry, free to control on the palm
Full hardware upgrade, support Wi-Fi wireless network connection
OBDSTAR X200 Pro 2 Features:
More compact: 5 inch high-definition touch screen, moderate size, easy to operate
More stable: comprehensive upgrade of software and hardware, equipped with Android operating system
More convenient: one-click upgrade, self-update, with upgrade prompt function
X200 Pro2 Oil Reset Vehicle List: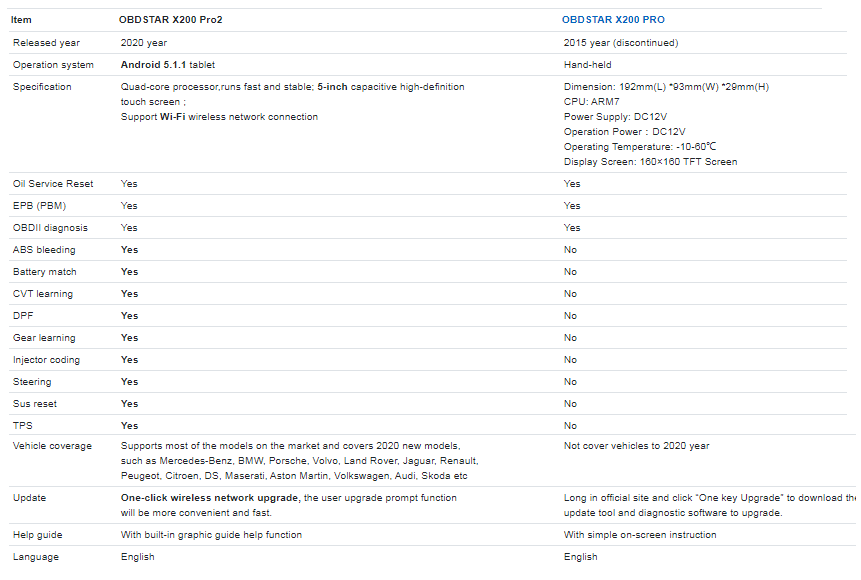 Package includes:
1 pc x X200 Pro2 MAIN UNIT
1 pc x MAIN CABLE
1 pc x power adapter