2021 New arrival Launch X431 PRO3S+HDIII Car& Truck Diagnostic Scanner
ALL SYSTEM DIAGNOSTICS FOR 12V CAR & For Cars & COMMERICAL/HEAVY DUTY TRUCK
2021 Newest Launch X431 PRO3S+HDIII Car& Truck Diagnostic Scanner
2021 New arrival LAUNCH X431 PRO3S+ HDIIII 12VCar & 24V heavy Truck Full System Diagnosis tool, 31+ Reset functions, remote diagnosis, Bi-directional Control, 12 in 1 data stream, Multi Languages Supported, Global Version(Can be used in worldwide)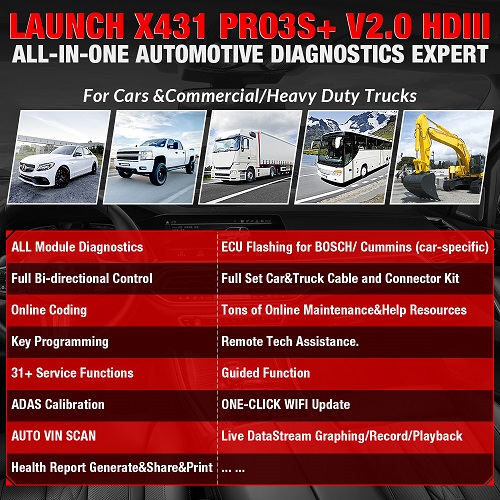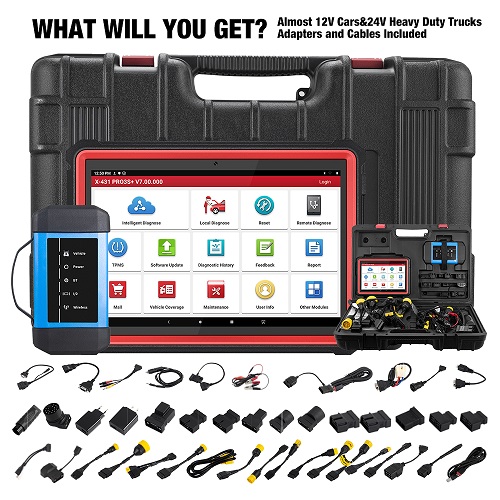 Why choose launch X431 PRO3S+ V2.0 HDIII ?
1.【ALL SYSTEM DIAGNOSTICS FOR 12V CAR & For Cars & COMMERICAL/HEAVY DUTY TRUCK 】:
There are many other full-system diagnostic scanners on the market, but most of them only support 50-60 cars, and can only be used as cars or only trucks. Our launch X431 pro3s+ HDIII supports both car and truck integration , Over 164 diagnostic software , 10,000+ models, and are constantly being updated, including 12V & 24V cars, trucks, buses,Machinery…..can Read DTCs, Clear DTCs, Read ,Data Stream, for all system, including ,engines/Auto Transmission /Airbags/Immobilizer/Key Coding/ABS/Cruise Control/Instruments/ Self Leveling Suspension systems /Seats /Doors /Gateway/Steering etc.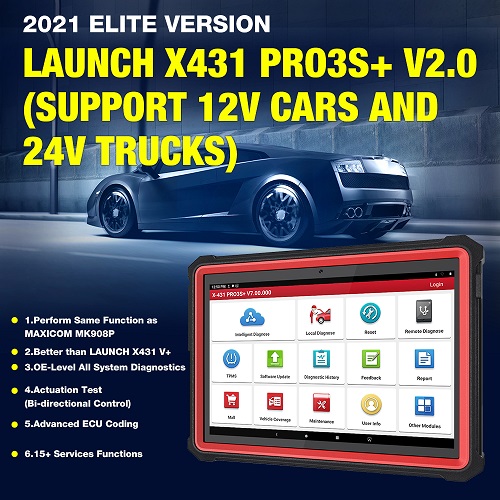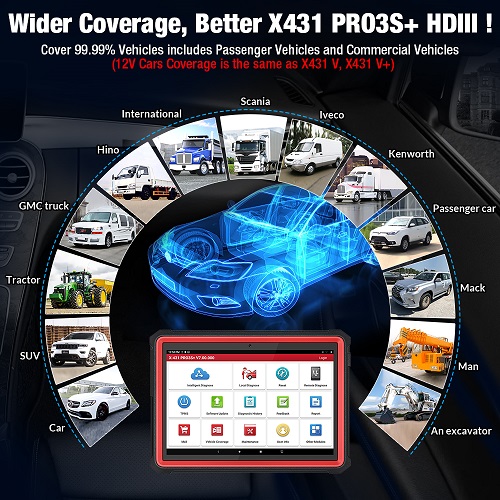 2.【2021 Newest Full systems DIAGNOSTIC TOOL+ ADVANCED OE-LEVEL FUNCTIONS】:
LAUNCH X431pro3s+ HDIII scan tool adds loads of OE-Level features as ➤Online Coding (compatible with VW, Audi, Skoda, Seat) ➤Setting & Changeover (adblue reset, unlock the engine after a collision, cancel ABS driving test, and more) for Benz ➤Modification for BMW ➤Offline Coding ➤Customization ➤Personalization, for worldwide vehicle brands, and keep growing.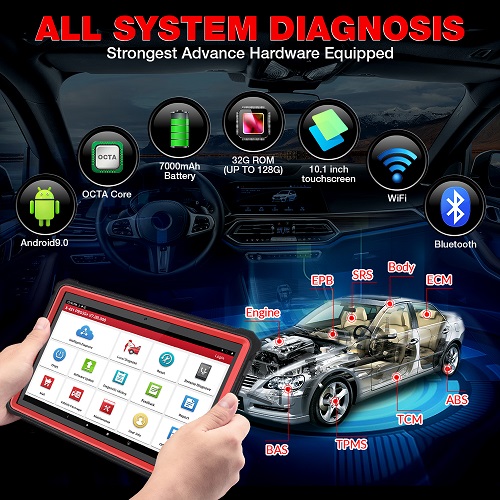 3.【BI-DIRECTIONAL(ACTIVE TEST)
LAUNCH X431 PRO3S+ scan tool can actuate solenoids and actuators for active testing, send commands to many systems/components to test their working status, without using the vehicle controls. powerful data analysis function, not only engine system, but also ABS, SRS and gearbox and more. >>>Automatic generation of main system diagnosis report, for the car problem at a glance.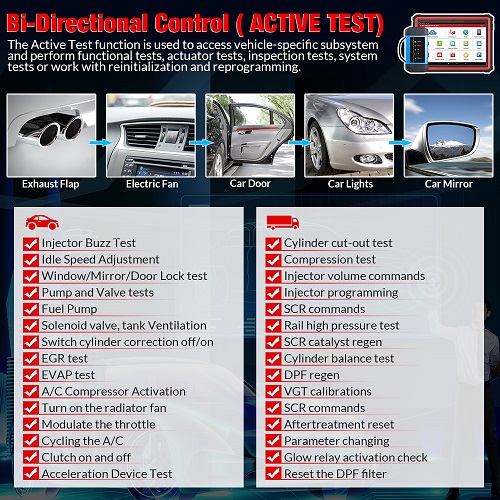 4.ECU Coding
Because every automobile actuator has a record code in ECU, which is the basis for automobile computer to mobilize their work. LAUNCH X431 PRO3S+ is equipped with advanced ECU coding function for addressing the following issues:
1. After you change the bad actuators or certain parts, you need to use this function to make a new code and recognize the new actuators.
2. By changing the code with the ECU coding, it's easy to improve vehicle performance or stimulate high-end functions for the car.
3. ECU coding enables multiple car systems to recognize each other and then the actuators can start to work.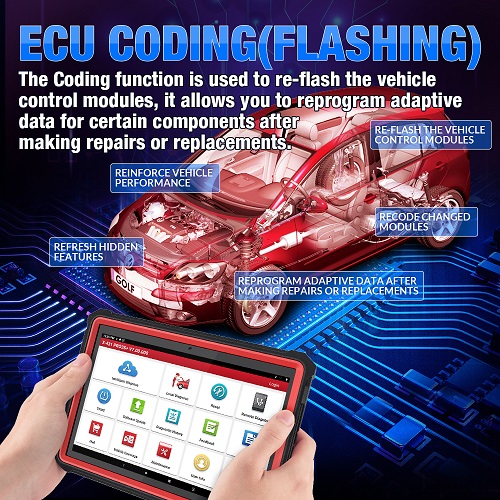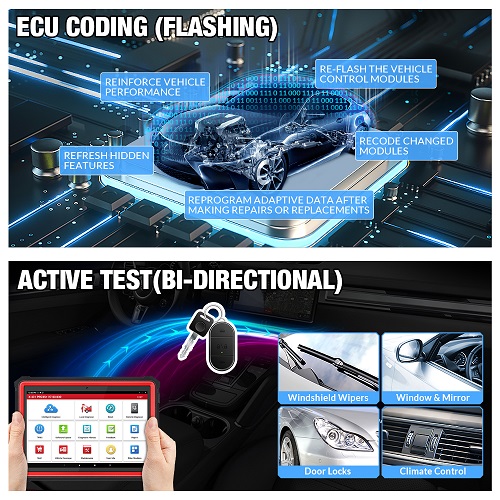 5.LAUNNH X431 V Support 30+ Kinds of Special Reset Service Functions:
Including Oil Reset Service ,Electronic Parking Brake Reset ,Steering Angle Calibration ,ABS Bleeding, TPMS (Tire Pressure Monitor System) Reset ,Gear Learning , IMMO Service 7.Injector Coding ,Battery Maintenance System, Diesel Particulate Filter (DPF) Regeneration ,Electronic Throttle Position Reset ,Gearbox Matching ,AFS (Adaptive Front-lighting System) Reset ,Sunroof Initialization ….
(note: 15 commonly used software is reset meru, others are in car software or truck software)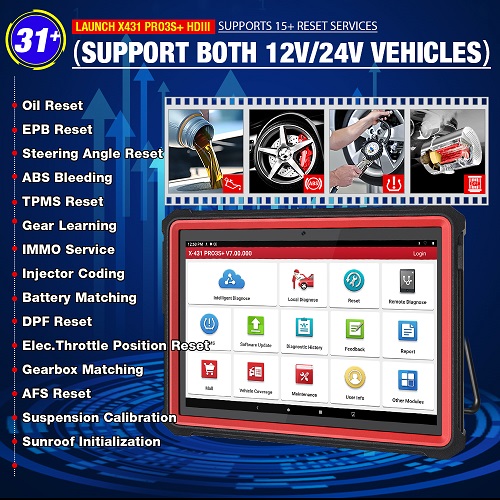 6.Multi-language support
LAUNCH X431PRO3+ support English, French, Spanish, German, Russian, Korean, Japanese, Portuguese, Italian, Polish, Dutch, Hungarian, Finnish, Simplified, Czech, Turkish, Greek, Arabic, Danish Persian, Romanian, Serbian, Swedish, Chinese Traditional,You can switch any language you want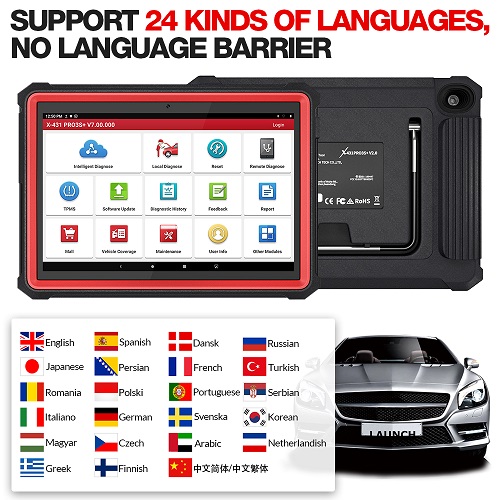 7.Accurate ADAS Calibration functions
Advanced Driver Assistance System (ADAS) is an electronic component in a vehicle, including various
safety functions of the vehicle, such as automatic emergency braking (AEB), lane departure warning (LDW),lane keeping assist, blind spot elimination, night vision camera and Adaptive lighting. (NOTE: Need to be purchased separately)
8.【FASTER, BEST HARDWARE AND MORE POWERFUL 】
LAUNCH X431 PRO3S+ has more advanced functions: Guiding Functions(compatible with Volkswagen and Audi),
Powerful 8-core 1.8GHz processor, 3GB Memory with 34GB Storage (can up to 128GB)
9.0 Android tablet, 10.1 touch screen, 7000mAh rechargeable battery (up to 10+ hours battery life)
9.12-in-1 graphic data flow / print data / print diagnosis report / record historical data:
powerful data analysis function, not only engine system, but also ABS, SRS and gearbox. >>>Automatic generation of main system diagnosis report, for the car problem at a glance. >>>Replay the frozen frame and record the history of the car. >>>Print out the data you want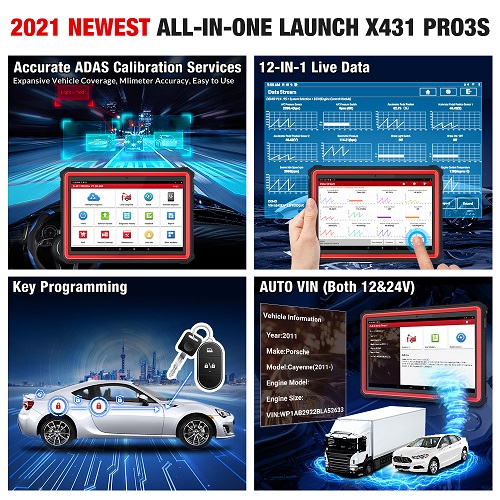 10.Global version , No IP limited , 1 year free update
Launch x431 pro3s+ HDIII support one key update via wifi , Update the new version of the software online quickly, such as client, firmware, diagnostic software.
Note : after the license expires, you can still use the device without being locked
11.Extended Modules (need buy them on mall )
Support expansion module: endoscope, X-PROG and Wi-Fi printer.
More features waiting for you to discover.
12. X431 PROS+ HDIII Software List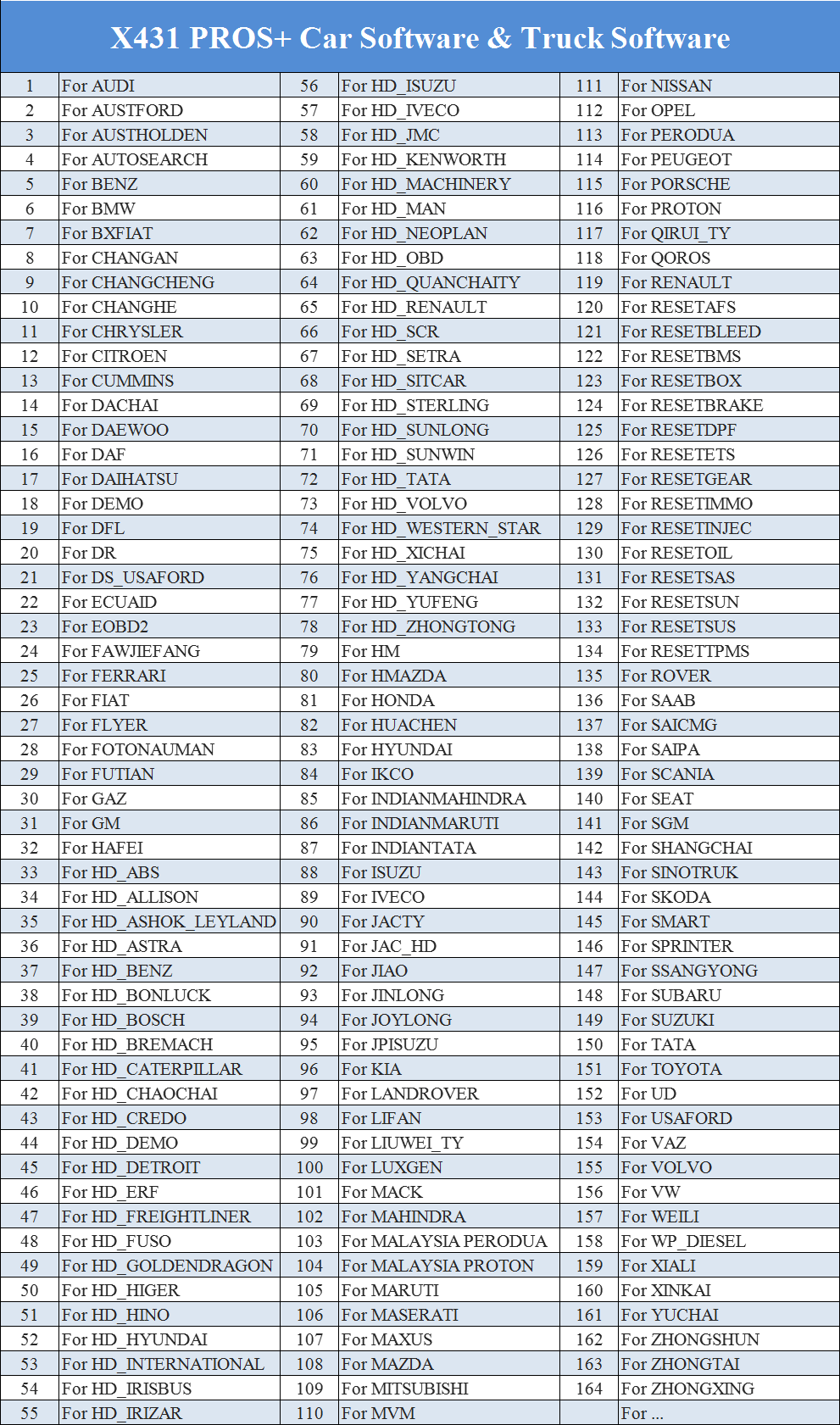 30+ Kinds of Special Reset Service Functions Details:
Oil Reset Service
allows you to perform reset for a new calculation of Engine Oil Life system once changed the oil.
Electronic Parking Brake Reset
is important in the maintenance of electronic braking system's safety and efficiency.
Steering Angle Calibration
helps clear the fault steering angle sensor memories and plays an important role in the steering angle sensor calibration.
ABS Bleeding
ABS brake bleeding to get a firm brake pad after air exhaustion.
TPMS (Tire Pressure Monitor System) Reset
makes sense in displaying sensor IDs from the vehicle's ECU, inputting TPMS sensor replacement IDs and testing sensors.
Gear Learning
Leaking injectors and some dead injectors can be missed even when an injector is disabled. Otherproblems with the ignition system and mechanical components also may not show an rpm loss when aninjector is turned off
IMMO Service
it is mainly used to disable the lost vehicle keys and program a new replacement key fob.
Injector Coding
Write injector actual code or rewrite code in the ECU to the injector code of the
corresponding cylinder so as to more accurately control or correct cylinder injection quantity.
After the ECU or injector is replaced, injector code of each cylinder must be
confirmed or re-coded so that the cylinder can better identify injectors to
accurately control fuel injection.
Battery Maintenance System
allows the scan tool to evaluate the battery charge state, monitor the close-circuit current, register the battery replacement, and activate the rest state of the vehicle.
Diesel Particulate Filter (DPF) Regeneration
specially works for Diesel Particulate Filter system with DPF regeneration, DPF component replacement teach-in and DPF teach-in after replacing the engine control unit.
Electronic Throttle Position Reset
The throttle body is a tube containing a pivoting flat valve (butterfly) that is used to control the amount ofair entering an engine. In an electronically fuel injected car, a throttle position sensor and air flow sensorcommunicate with the computer, which supplies the corresponding amount of fuel needed at the injectors. It must need re-learning throttle sensor position after clearing or repair
Gearbox Matching
1. This function can complete the gearbox self-learning to improve gear shifting
quality.
2. When the gearbox is disassembled or repaired (after some of the car battery
is powered off), it will lead to shift delay or impact problem. In this case, this
function needs to be done so that the gearbox can automatically compensate
according to the driving conditions so as to achieve more comfortable and
better shift quality.
AFS (Adaptive Front-lighting System) Reset
It detects the light of the environment, then decides whether to automatically turn on the headlights or not. It can also adjust the headlights in time by monitoring the driving speed and body posture of the vehicle.
Sunroof Initialization
This function can set the sunroof lock off, closed when it rains, sliding / tilting
sunroof memory function, temperature threshold outside the car etc
Suspension Calibration
1. This function can adjust the height of the body.
2. When replacing the body height sensor in the air suspension system, or
control module or when the vehicle level is incorrect, you need to perform this
function to adjust the body height sensor for level calibration.
More features waiting for you to discover
Technical Parameters
Operating system :Android
Memory :3GB
Storage :32GB
Screen :10.1 inch FHD IPS capacitive touch screen with a resolution of 1920 x 1200 pixels
Camera :Front-facing 5.0MP camera + rear-facing 8.0MP camera
Connectivity :Wi-Fi (802.11a/b/g/n/ac)
Bluetooth : Working temperature 0℃ ~ 50℃
Storage temperature :-20℃ ~ 70℃
VCI module
Working voltage :DC 9 ~36V
Power consumption :≤ 3W
Communication :Via Bluetooth/Wi-Fi or USB connection
Working temperature :0 to 50℃