Newest Launch X431 V+ Wifi/Bluetooth Global Version Full System diagnostic Android Tablet Same function as X431 PRO3
1.LAUNCH X431 V+ supports online update free for 2 years, for wifi/Bluetooth working
2.Bigger ,Larger storage and faster working speed than LAUNCH X431 V
3.Supports about 83 car brands from USA, European, Asian,etc
4.Multi-Language: English, Spanish, French, German, Japanese, Korean, Russian,Arabic
5.You can use it to print out diagnostic data with LAUNCH WIFI printer.
Newest Launch X431 V+ Wifi/Bluetooth Global Version Full System diagnostic Android Tablet Same function as X431 PRO3
1. Online update free for 2 years.
2. Bigger ,Larger storage and Faster working speed than LAUNCH X431 V.
3. Supports about 83 car brands from USA, European, Asian and so on.
4. Supports wifi/Bluetooth, bring more convenience to your update.
5. Multi-Language:English, Spanish, French, German, Japanese, Korean, Russian,Arabic
6. Allows you to print our diagnostic data with Wifi printer.
7. 6600mAh Li battery can keep working 8 hours,portable and reasonable PDA design, easy carry with small size
8. Numerous Additional Functions: Photo, video, multimedia, other software application,etc.
9. Same working function as X431 PRO3
Launch X431 V+ Instructions     
Launch X431 V+ PRO3 is a typical diagnostic device contributed by Launch to diagnostic industry concerning Internet application. You can use X431 V+ to diagnose full car model and full system fault  through Bluetoooth. Working Principle is  Bluetooth communication between DBSCar connector and Android Tablet.
Launch X431 V+ PRO3  includes all Launch diagnostic tool 's advantages in car fault diagnostic technology, such as vast car model coverage, powerful test function, and other special function,accurate test data, etc.
Launch X431 V+ PRO3 supports 12V/24V gasoline(petrol) cars,12V for some diesel cars,not for trucks.
【Coding and ALL Systems Diagnoses】


ECU Coding and Auto VIN Tech
This diagnostic tablet supports ECU coding function on a large amount of vehicle models, including Ford and GM, VW, Honda, Toyota and more. It also supports identifying car's information automatically rather than manually.
ALL Systems Diagnoses
To diagnose car comprehensively, it can read DTCs and data streams for ALL systems. For instance, Fuel system, Emission system, Transmission, Engine, Body, Powertrain and more. You do not have to buy other tools for diagnosing systems, saving you much time and money from a long term.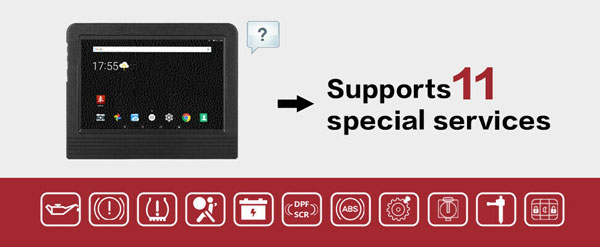 【Full Special Functions】
This diagnostic tool supports11 special services and complete OBD2 functions. The former includes:
l BMS service to reset battery management system;
l Oil reset to reset service mileage and service interval;
l Throttle matching to ensure communication with ECU after replacement;
l Injector programming to let new injectors function well;
l SAS reset to reset steering angle sensor;
l DPF service supports forced DPF regeneration and adjusting injectors;
l TPMS service to relearn TPMS sensors;
l EPB reset to reset new electronic parking brakes for braking wheels safely again;
l ABS brake bleeding to get a firm brake pad;
l Tooth learning to make new crankshaft be used and IMMO (Anti-theft matching) to finish keys coding.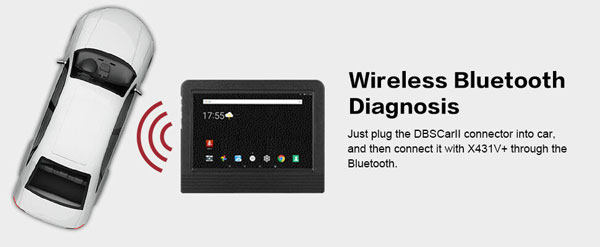 【Wireless Bluetooth Diagnosis】
Different from diagnosing the vehicle via diagnostic cable, this diagnostic scan tool offers the users with much convenience due to the supported Bluetooth connection. Just plug the DBSCarII connector into car, and then connect it with X431V+ through the Bluetooth. You are able to diagnose vehicles directly, either at your workbench or under the hood.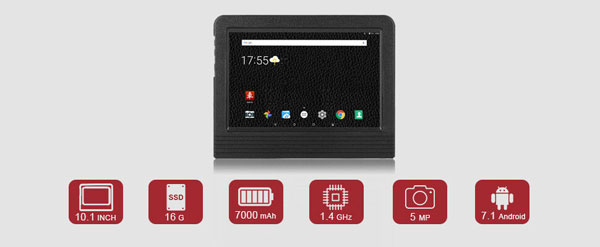 【Advanced Hardware】
You are able to use the diagnostic tool about 4-6 hours continually, which are supported by the 700mAh battery; you can get the ability to see different data in wave like form displayed on the screen at the same time because of the equipped 10.1-in supper touch screen; you can also find the malfunctioned parts directly and solve problems quickly by using this diagnostic tool with a advanced Android5.1 system.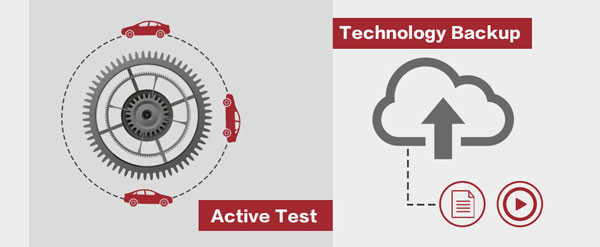 【Additional Capabilities】
Besides various wonderful capabilities in OBD2 functions, special services and full systems diagnoses, this diagnostic tool – Launch X431 V+ provides you with many additional services to facilitate your diagnosis.
Active Test
Active test is to test output elements. You can figure out whether a specific subsystem or component in your car functions well or not by using this tool to make the tester outputs function instead of checking in ignition status.
Technology Backup
You can get remote control tech support from LAUNCH tech team by sending one-click recorded videos and accurate diagnostic results to them. Also, the one-click update online feature is quite convenient.
X431 V+ and DBSCAR ConnectorSpecification:
X431 V+ tablet Parameters
CPU: X431 V+host (Lenovo flat).RoHS
Screen:10.1 inch Multi touch capacitor Screen
Screen Resolution:1280X800
Operation system:Android4.0
Memory:1G
Storage:8GB
Battery:Polymer Lithium-ion battery, 6600mAh
Camera :0.3M pixels front , rear 3.2M pixels
Operating Temperature :0°C~+45°C
Storage Temperature :-10°C~+45°C
DBSCar Connector Parameters
Connection: Standard OBDII Interface, Micro USB 2.0
Typical Power Consumption:(12V)Static current 25 mA,
overall unit average current 35 mA
Working Temperature: – 20 °C~6 0°C
Storage Temperature: -30°C~70°C
Dimension: L * W * H = 48 mm * 24 mm * 32 mm
Unit Weight: 26 g
Working Voltage: powered by vehicle battery, DC 9V-15V
LAUNCH X431 V+ Software Update:                     
Your need to register on Launch official website.
Dealer code is 86A or 86K.  Register code can be found from the password paper.You can use it freely after updating software to LAUNCH X431 V+ .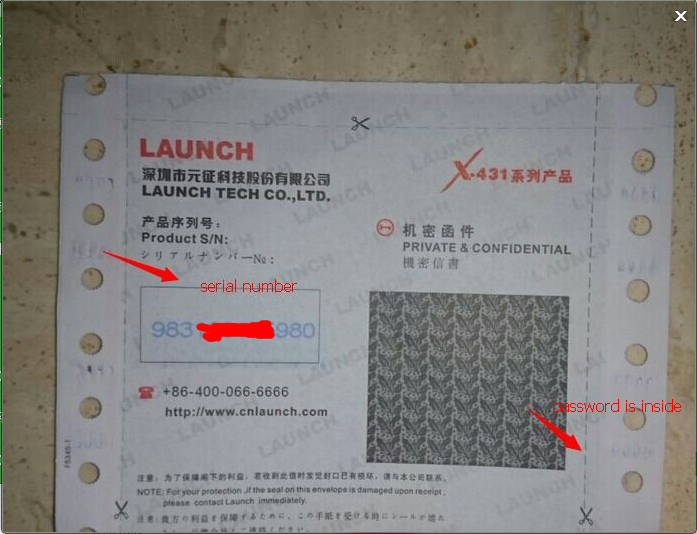 One click update: No need to download software to memory card anymore, you can do one click update directly through X431 V+.
There is no paper user manual in the package, but you can find the user manual from your tablet.
Kindly notice:
1.Please  check if your X431VPlus apk in your scanner is the latest one ,if not, you need to update to latest X431 V+ .
2.Please do remember the account and password where you register your X431 V+, because it is very important, without which you can not download car software
3.How to find user manual on your scanner? Open X-431 V+ apk,find "Profile"–"Help",you will see "USER MANUAL"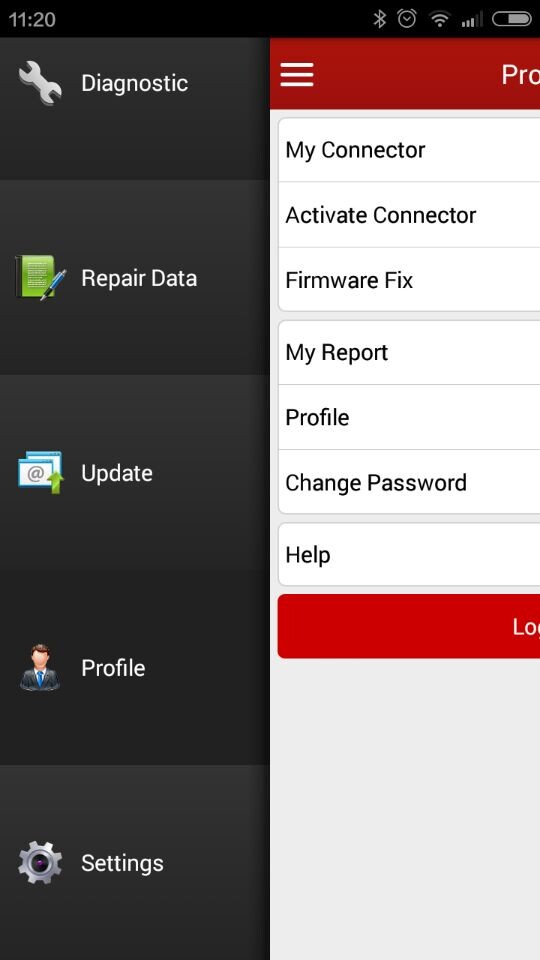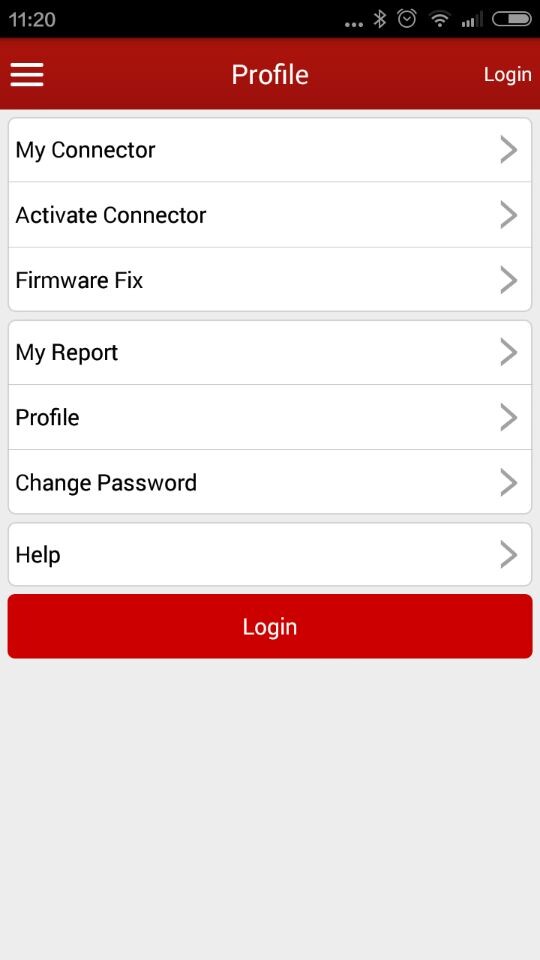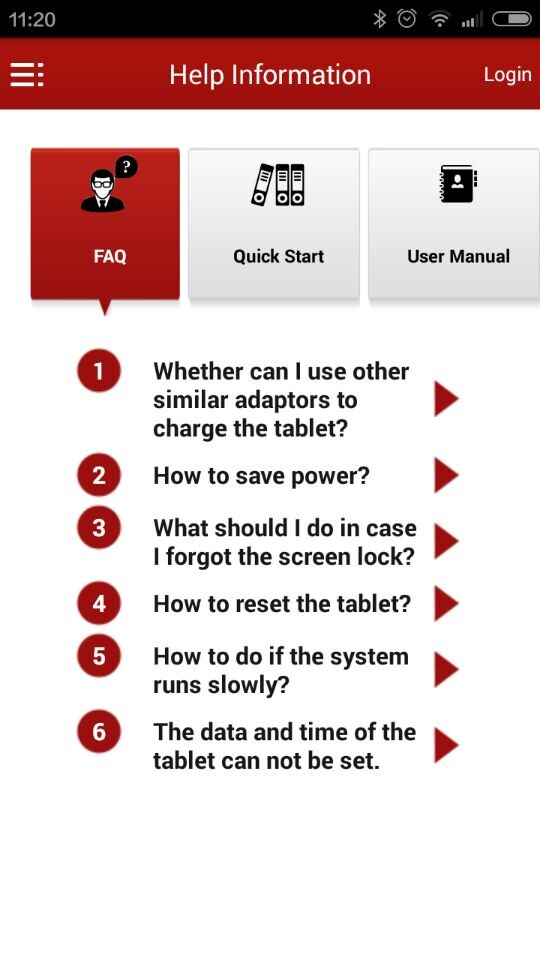 The hardware update for New X431 V+: