Launch X431 DIAGUN V Diagun5 Full System Diagnostic Scan Tool
1. X-431 Diagun V is an slim evolutionary vehicle diagnostic tool. Featuring a quad-core 1.3GHz processor, and a 5.5 inch capacitive screen, X-431 Diagun V delivers diagnostic functionality which helps to diagnose vehicle issues more efficiently.
2. X-431 Diagun V supports Wi-Fi connection, one-click update, diagnostic feedback and all kinds of service functions (including oil lamp reset etc).
3. Update version of Diagun IV .
Launch X431 DIAGUN V Diagun5 Full System Diagnostic Scan Tool
Top 6 Reasons to Get LAUNCH X431 Diagun V
1. 2 Years Free Update Online
2. Upgrade Version of DIagun IV
3. 32GB large storage for smoother operation
4. Bluetooth connector can be inserted into the host, which is easy to use, but not easy to lose.
5. Both the front and back of the connector can be inserted into TYPE C interface, making operations more convenient and charging more stable.
6. One-click Smart Upgrade: Support online one-click smart upgrade for car software. To enjoy better functions and upgrade services, upgrade software aperiodically.
Top Features:
New Design: New UI ,compact and lightweight, easy to carry ; dedicated compartment set for the diagnostic connector on the main unit to prevent from losing
Wide Car model coverage :Support most of the car models from Asia, Europe and America, such as for Maserati , for Ferrari, for Rolls-Royce, for Bentley, For BENZ, For BMW, for Audi…
Special functions: Support frequently used special functions , such as service light reset , throttle adaptation , steering angle reset, brake pad reset, TPMS reset, anti-theft matching ,ABS bleeding , battery matching, injector coding and DPF regeneration
Remote diagnosis : Remote diagnosis between workshop
One-key Upgrade: Once there is a new software version , the system will promptly remind the user to upgrade the version , for which one-key upgrade operation is supported
Multi-language: English,French,Spanish,German,Italian,Portuguese,Turkey,Polish,Dutch,Greek,Hungarian,Danish,Persian,Romanian,Serbian,
Finnish,Swedish,Czech,Arabic,Russian,Japanese,Korean,Traditional Chinese and Simplified Chinese.
you can change the language by yourself, no need help from your seller to activate it.
Reset function:
The Reset section is specially designed to provide you quick access to the vehicle systems for various scheduled service and maintenance performances. All resetting operations are driven by executive commands. Just by following the on-screen prompts to select appropriate execution options, input correct values or data, and perform necessary actions, the system will guide you through the complete performance.
The most commonly performed service functions contain:
• Oil Reset Service
• Steering Angle Calibration
• Electronic Parking Brake Reset
• Battery Register / Battery Maintenance
• ABS Bleeding
• Electronic Throttle Position Reset / Learn
• Diesel Particulate Filter (DPF) Regeneration
• Tire Pressure Monitor System Reset
Diagun V Supports over 10,000+ Car Models:
Amarica car models:
FORD,LINCOIN,GM,BUICK,CADILLAC,CHEVROLET,CHRYSLER,DODGE,JEEP,HM
Europe car models:
BENZ,SMART,SPRINTER,BMW,VW,SKODA,AUDI,OPEL,LAMBORGHINI,PORSCHE,MAYBACH,EURO FORD,LANDROVER,DR,BENTLEYRolls-Royce,ROVER,MINI,VAUXHALL,FERRARI,FIAT,Abarth,LANCIA,Alfa,Romeo,Maserati,BUGATTI,PEUGEOTCITROEN,RENAULT,SAAB,VOLVO,OPEL,Dacia,SEAT
Malaysia car models:
PERODUA(PERODUA),PROTON
IRAN car models
IKCO,MVM
India car models
TATA,MARUTI,MAHINDRA
Russia car models
GAZ, VAZ
Brazil car models
FIAT; GM
ASIAN CAR MODELS:
SAMSUNG,DAEWOO,SSANYYONG,HYUNDAI,KIA,HONDA,Acura,TOYOTA,SCION,LEXUS MAZDA,NISSAN,Infiniti,JPISUZU,TLISUZU,DAIHATSUSUZUKI,MITSUBISHI,SUBARU, CHANGCHENG,HUACHEN,ZHONGXING,JACTY, QIRUI_TY,ISUZU,JINLONG,CHANGAN,LIUWEI_TY,XINKAI,JPISUZU,ZHONGSHUN,HAOQING,HAFEI,XIALI,CHANGHE ZHONGTAI,FLYER,SSANGYONG,JIAO, WEILI, LUXGEN.etc.
Diagun 5 Software List: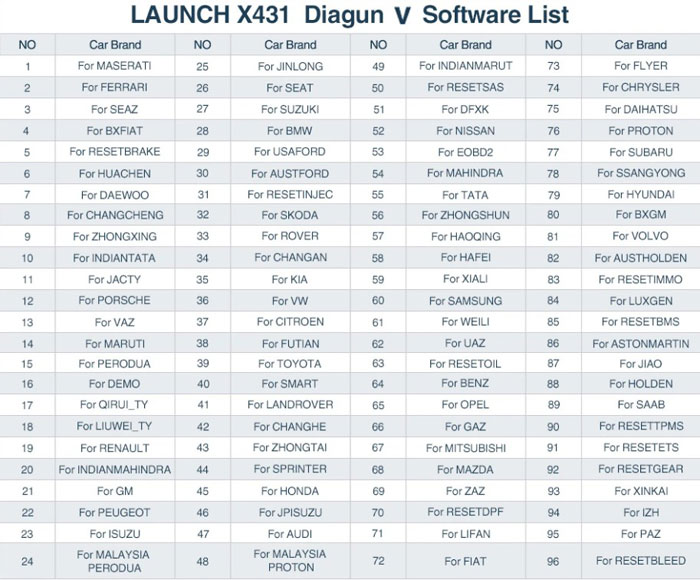 DBScar IV detail:
Working Temperature :-10 ℃ to 50 ℃
Power Voltage: DC 12V
Bluetooth: Within 10 meters
Diagnostic Method: Bluetooth + Wired
Size: 72 x 47 x 24 mm
Main parameter:
System: Android 7.0
CPU: 1.1 GHz 4 cores
Battery: 2500mAh lithium polymer battery
Display: 5.5"touch capacitive screen
Storage: 16G
Size :215 x89.5 17(37)mm

Diagun IV vs. Diagun V Parameter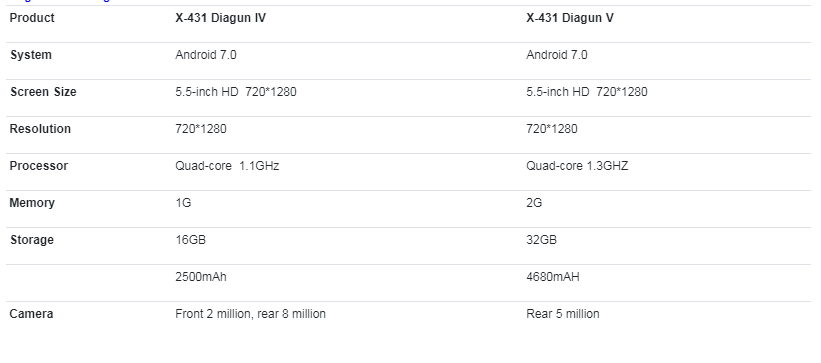 Diagun V FAQ
1. How to save power?
Please turn off the screen while X-431 Diagun V keeps idle.
Set a shorter standby time.
Decrease the brightness of the screen.
If WLAN connection is not required, please turn it off.
Disable GPS function if GPS service is not in use.
2. What should I do in case I forgot the screen lock?
You can set screen lock as pattern or password. If you forgot the password, please consult your device provider or reset your device.
Warning: Resetting may cause data loss. Before use, please make sure important data has been backed up.
3. How to do if the system runs slow?
In this case, please do the followings:
> Check all running applications and stop the unnecessary applications (Steps: Settings -> Apps -> Running -> Tap the desired application and then tap "Stop").
> Check all installed applications, remove the unnecessary applications (Steps: Settings -> Apps -> Downloaded -> Tap the desired application and then tap "Uninstall").
If all steps mentioned above are finished and the system still works slowly. Please try to close the system and reboot your X-431 Diagun V.
4. How to reset X-431 Diagun V?
Resetting may cause data loss. Before doing so, please make sure important data and information has been backed up.
Do the following to reset X-431 Diagun V:
1. Tap "Settings" –> "Back & Reset";
2. Tap "Factory data reset";
3. Tap "Reset tablet";
4. Tap "Clear all data" to start resetting until the tool automatically reboots.